Financial transactions managed by mortgage lenders often require a Verification of Employment & Income (VOE/I) to minimize the risk of financial loss. Employers' hiring staff are another primary user of VOE/I, as are property managers and landlords, credit card issuers and auto lenders.
What is a Verification of Employment?
A Verification of Employment is just what it says: it confirms an applicant's current employment. If a potential lender, landlord or employer bypasses this critical step, they risk financial loss through loan default, theft, fraud or non-payment of rent.
To VOE or not to VOE... that is the question.
Mortgage lenders are particularly susceptible to false information since homeownership is still The American Dream for many people. Although over 99% of mortgage applicants complete their applications accurately, the percentage of those completed with false information rose during 2021.

The analysts at CoreLogic, a financial, property and consumer information provider, recently reported a 37.2% year-over-year spike in mortgage fraud during the second quarter of 2021. This added up to around one in 120 applications containing false or misleading information. In comparison, only one in 164 applications contained falsified information during the second quarter of 2020.

Considering that the average mortgage amount rose to $410,000 in 2021, it only takes one fraudulent application proceeding to funding to possibly result in a significant loss for the lender. According to credit rating agency Standard & Poor's, if a mortgage lender is forced to foreclose on a property, this may cost around 26% of the mortgage loan amount.
Is it fraud or simply wishful thinking?
Reasons for the 2021 rise in fraudulent mortgage applications aren't surprising. While most mortgage applicants provide accurate information, a few may be tempted to inflate their salary and/or falsify their current employment in the hopes of qualifying for a higher loan amount. This is because more prospective homeowners found themselves priced out of the real estate market during 2021.
CoreLogic executive Bridget Berg commented: "...most mortgage fraud in this type of market is motivated by bona fide borrowers trying to qualify for a mortgage. Undisclosed real estate liabilities, credit repair, questionable down payment sources, and income falsification are the most likely misrepresentations."
While applicants may believe they can handle a larger loan and subsequent repayments, their actions may eventually result in bankruptcy and/or foreclosure. Therefore, a VOE/I can be doing these applicants a favor in the long run, although they probably won't see it this way.
While non-mortgage lenders, employers and landlords may not be faced with five-figure foreclosure expenses, they may suffer other losses that an accurate VOE/I could have prevented.
Current Verification of Assets, Employment and Income Strategies
1. Use of a Third-Party Professional Verifier

Many businesses opt to share their employees' status and salary details with the third-party services like The Work Number® that accesses and distributes this information to credentialled verifiers who have a permissible purpose to access this data.

Created by Equifax, one of the "big three" credit reporting agencies in the United States, The Work Number collects salary, job title, and year-to-date earnings from various business contributors.

To date, the data provided by The Work Number has expedited the VOE/I process for over two million businesses and has established itself as a credible verification source.

Click here to learn more about how Informative Research utilizes The Work Number, and other verification services providers, as part of our Verification Decisioning Platform. Our Verification Decisioning Platform helps businesses achieve higher verification hit rates, a better borrower experience, and decreased costs.

2. Other Verification Methods

Some lenders and landlords opt to verify an applicant's job status directly with their current employer. These are usually handled by human resources staff, who often request written consent from the employee/applicant before sharing this information.

Caution: in 2018 Fannie Mae brought to light potential fraud schemes involving misrepresentation of borrower employment. Lenders would be wise to validate the business's existence before reaching out to perform the VOE/I. Validating a business can be done with a combination of a search of established, trusted online sources for applicant-provided employer phone numbers. This may help prove that the employer exists, although employment details will not be available. Sources like Google, 411.com, Anywho, or Superpages may be able to validate an employer's phone number.

Additional methods include verifying the employer's business license with the Secretary of State or ordering a business report or consulting the city's Yellow Pages listings. Again, details of the applicant's employment will not be available.
Generally, mortgage lenders ask applicants for identification documents like a driver's license or Social Security card during the initial stage of the application process. During the loan's underwriting, lenders may opt to take the verification one step further to verify an applicant's income. They often ask for pay stubs, bank statements and credit reports. Some lenders request that loan applicants complete the IRS Form 4506-T Request for Transcript of Tax Return, especially if they do not have copies in their personal files.

3. Verifications for Non or Self-Employed and Military Applicants

Verifying employment for applicants who are self-employed or currently serving in the military usually differs from applicants who receive regular paychecks.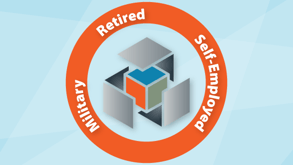 Self-employed or 1099 loan applicants are often required to provide details of their business filings with a state or county licensing bureau, a current Profit and Loss statement (PnL) and the previous years' tax returns. Preliminary business verifications can be carried out if their business is listed in a telephone book, directory, or internet.

Applicants on active military duty may be verified online through the Defense Manpower Data Center, a source of information and data. However, an applicant's military status is not available at this site.
Some applicants, including those who have retired, can verify income by producing copies of bank statements, retirement income, and/or investment portfolio statements. Generally, a lender will need to verify sufficient income from these sources to repay a mortgage.

Retirees applying for mortgages may opt for an asset depletion or asset-based loan if the lender allows. This requires the applicant to provide details on assets like stocks that, if sold, could be used to make mortgage payments. These applicants may also qualify with a combination of income sources - not 100% assets.
More protection provides more peace of mind.
Businesses have several options for verifying employment and income to ensure the safety of their practice. However, not all verification methods offer equal levels of protection.

Some lenders take extra precautions to reduce risk by using multiple verification processes. For example, an applicant's identity may also be verified as protection from possible identity theft.

Check out our Verification Bundle to learn how to save money despite rising costs and security risks.

Potential employers and landlords can also benefit from background checks, so they will avoid doing business with applicants with criminal records. This helps protect existing employees and established tenants, as well as business managers and owners.

In conclusion, there is no such thing as over-verification of an individual's employment, income, assets, identity and lack of criminal background. Ensuring that fraudulent applications are never approved will protect against monetary loss and much more.

If you're considering enhancing your current VOE/I methods or want to expand your verification criteria, Informative Research can be your verification service provider. We can perform the verification of employment for you as well as other essential services. Contact us today for more information.
---
Want to know more about verifications?
Check out Your Complete Guide: The Asset, Employment, and Income Verification Process for Mortgage Originations.
---